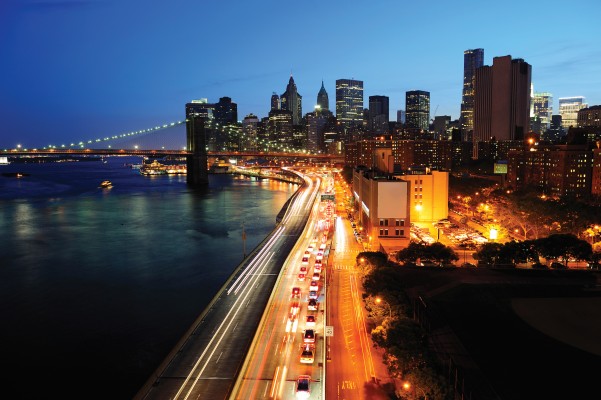 INSPIRE's little black book to the most luxurious and exclusive experiences in the glitzy city of New York

By: Kimberly Tan
In the city where dreams are made of, New York holds a certain je ne sais quoi that keeps international visitors returning for more. We recommend some of the most opulent experiences in New York, whether it's three Michelin-starred dining, luxurious shopping experiences and sky high penthouses.
BE SCENE
11. Fashion Forward
Witness the unveiling of the Autumn Winter 2015 collections at the prestigious Mercedes-Benz New York Fashion Week held in February. Luxury packages offered by VIP Concierge will guarantee you the best seats in the house, surrounded by famous photographers, experts from the fashion industry, celebrities and VIP guests. These include Karl Lagerfeld, Tommy Hilfiger and Donna Karan. Get ready for the big event with pampering treats from hotels like Mandarin Oriental, New York, which released a Runway Ready package for the September edition of the fashion show. This included two tickets to the Rodarte runway show and a manicure, in-room hair styling and make-up by Salon SCK's runway stylists.
10. Best of Film
Rounding up some of the most luxurious events in the city is the New York Film Festival, held at the Lincoln Centre from 26 September to 12 October. Famous directors like Laura Poitras, Jean-Luc Godard and Bennett Miller have showcased their amazing films here. Book the VIP passes for access to all the events during the 17 days as well as premium seating and the NYFF concierge.
GLORIOUS FEASTS & CUSTOM COCKTAILS
9. Three Michelin-starred dining
Try some of the three Michelin-starred dining in the city, at Jean-Georges, known to be the jewel of Chef Jean-Georges Vongerichten's culinary empire that's located in 1 Central Park West. The Jean-Georges' Menu: Chef Vongerichten's Assortment of Signature dishes (US$208) has been crafted based on seasonal produce. This includes sea scallops paired with caramelised cauliflower and a caper-raising emulsion, egg caviar and a lobster tartine.
8. Japanese cuisine in New York
Dine on the omakase menu (reportedly US$450 per person) at Masa, helmed by Chef Masa Takayama that might include ingredients like truffles and Kobe beef, as well as fish directly flown in from Japan.
7. Farm to Bar cocktails
One of the first bars to incorporate a Farm to Bar ideology, Apothéke, an apothecary-themed bar, sources their cocktail ingredients from organic produce vendors, their rooftop herb garden and local greenmarkets, supporting sustainability and local farmers. The cocktails are labelled under various "prescriptions", with quirky names like Wolf in Sheep's Clothing. Try a pitcher of the zesty Southern Hymn (US$180), concocted with Jim Beam Bourbon, lemon, thyme, Relax Tea, vanilla bean cognac, lime and agave. Guests can also try to recreate these signature drinks at the range of classes available (US$125).
LIVING LARGE
6. Billionaire Enclaves
Scheduled to commence sales in February, New York's most luxurious address has to be 520 Park Avenue, on the Upper East Side two blocks to the east of Central Park. The 54-storey condominium tower is likely to mimic the success of another Zeckendorf project, 15 Central Park West, which has become a billionaire enclave welcoming the likes of Denzel Washington, Sting and billionaire Sarah Blakely. Its 31 homes have been designed by Robert A.M. Stern Architects.
The building will be completely clad in Indiana limestone, paired with handset stone detailing that is reminiscent of the great historic apartment houses. Each home has 225ft of linear exposure, spanning views of Central Park, Park Avenue, and the Manhattan skyline. This new development's triplex penthouse, spanning 12,394sq ft, will have 15ft ceilings with old world-finishes and modern amenities and will likely cost US$130m. Its amenities will include a screening and meeting room, climate-controlled wine cellars, a swimming pool with vaulted ceiling and hand carved stone walls and saunas, steam rooms and a treatment room.
5. The Most Expensive Penthouse in New York
For shorter stays, consider the Ty Warner Penthouse at the Four Seasons New York, (about US$45,000 per night). Designed by renowned architects I.M. Pei and Peter Marino, the suite took seven years and cost US$50m to build. It is also currently the highest hotel suite in New York, offering amazing views of Manhattan via the four glass balconies, single-paned windows and glass railings. The penthouse suite is furnished with calfskin leather walls in the dressing room, semi-precious stones in the Zen room which also contains a floor-to-ceiling waterfall and Mexican sycamore wood in the spa room. Other lavish details include the guest powder room's walls, ceiling and sink which have been fashioned from semi-precious tiger's eye stone.
OPULENT EXPERIENCES
4. Exclusive Art Tours Just For You
Witness the best of the city through carefully crafted experiences from hotels like The Peninsula New York, which can offer a unique private pre and post-opening tour to the Museum of Metropolitan Art (US$550 per person for up to six guests). The 90min experience will begin at about 10.30am, where guests will be escorted to meet their private Art Historian guide. The guide will highlight specific specialties including architecture or sculpture. Guests can end the spectacular day with a Chef Tasting menu in the museum's The Modern restaurant.
3. The Best Street Art
Continue your art education with Black Tomato. The luxury travel planner will bring guests to the heart of public art. The itinerary, led by local artists, will take you through The High Line, a public park displaying an ever-changing wide range of pieces from emerging and renowned artists. Works could include Spencer Finch's installation: The River That Flows Both Ways or the Marianne Vitale piece Common Crossings. The tours can be tailored to urban photography or graffiti depending on the clients' interests. They could also include a street art tour by local artists in Chelsea and Brooklyn, a graffiti art tour in Harlem and a guided walking tour of the DUMBO district. This will cost about US$2,596.
BESPOKE DESIGNS
2. Suit Up
Michael Andrews Bespoke on 2 Great Jones Alley, between Broadway and Lafayette, designs custom suits (from US$1,495). He uses fabrics from the world's finest mills including Loro Piana, Holland & Sherry, Zegna and Ariston. These, like Scabal's Treasure Box Super 150's, might even have gold and platinum filaments. First orders will take about eight to 12 weeks to be delivered for first-time customers, while subsequent orders will take about eight weeks. The process will feature bench-made construction for a true bespoke fit, a full canvas construction, hand rolled lapels and over 30 hours of total craftsmanship. Each garment is crafted to fit you precisely. Michael Andrews Bespoke has been featured on My Fair Wedding with David Tutera and has provided much of the wardrobe for the principal actors in USA Network's White Collar.
1. Custom-Made Jeans
Avid denim fans can procure a pair or two created especially for them at 3×1 at 15 Mercer in Soho. The 7,000sq ft, three-storey store and factory has the largest collection of selvedge denim in the world, where 460 denim fabrics are sourced from domestic and international rare mills and selvedge looms. Create your own bespoke pair (US$1,200 and up) with the help of the experts, Scott Morrison, James May, Ben Niergarth and Yan Liang. Fabrics might include an original K-series selvedge from the first denim produced in Japan. Past customers have requested for two denim suits and reversed denim jeans. These jeans will be sewn with single needle sewing machines, pressed with a hand steam iron and each waistband is set by hand. Celebrity fans include Tony Parker, Steve Nash, Kendall Jenner, Miranda Kerr, Jessica Alba, Kate Bosworth and LeBron James.